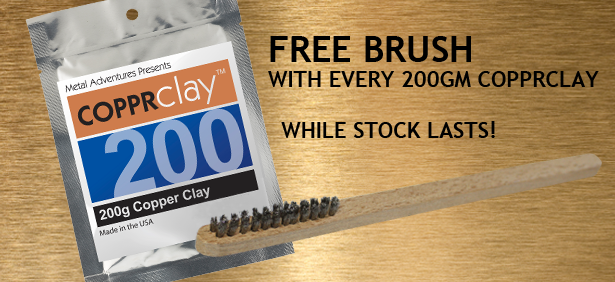 Welcome to the next step in the evolution of metal clay: COPPRclay!
COPPRclay provides an incredible artistic range. And, because it 's so affordable, it can be used to sculpt large pieces and create specialized tools - it can even be thrown on a potter's wheel to shape copper hollowware.
COPPRclayT can be pinched, rolled, sculpted and manipulated. In its dried state, it's still highly flexible and easy to carve-ideal for applying details and finishing touches prior to firing.
When fired in a kiln (visit www.copprclay.com for great in-depth instructions), the binder vaporizes, leaving a solid, pure copper object that can be sawn, shaped, drilled, sanded, patinaed or soldered using traditional jewelry tools and techniques.
This exciting product offers a new world of possibilities for jewelry-makers, artists and sculptors.
PLEASE NOTE: This clay has to be fired in a kiln!
(You also have to create an oxygen free environment, so we recommend a stainless steel pan and submerged in activated carbon).
PLEASE NOTE: You can only use coconut based carbon for COPPRclay!