Have your own customised stamp made just for you! Want to put your logo or maker's mark on your creations? Or just your own special little decorative design? Or would you want a personalised rubber stamp to use with ink for stamping your own packaging or cards? Then this is for you.
You can choose between a laser engraved acrylic (hard plastic) and a laser engraved rubber design. Or both of course, as they're both good for different things... On this smaller stamp, the design will be about 8x8mm

Acrylic: The handmade acrylic laser engraved logo stamp is perfect for metal clay, polymer clay, ceramic clay, and other types of clay. It gives a crisp, clear impression, and is very easy to clean, using a soft brush.
Rubber: The laser engraved rubber stamp works on clay too, but it won't be as crisp and clear as the acrylic version. This is more suited for paper crafts, like stamping your jewellery packaging like boxes and envelopes, or for card making and wedding favours.
Both types of stamp designs will be handmade, laser engraved, and mounted onto a wooden base and stamp handle, with your logo engraved.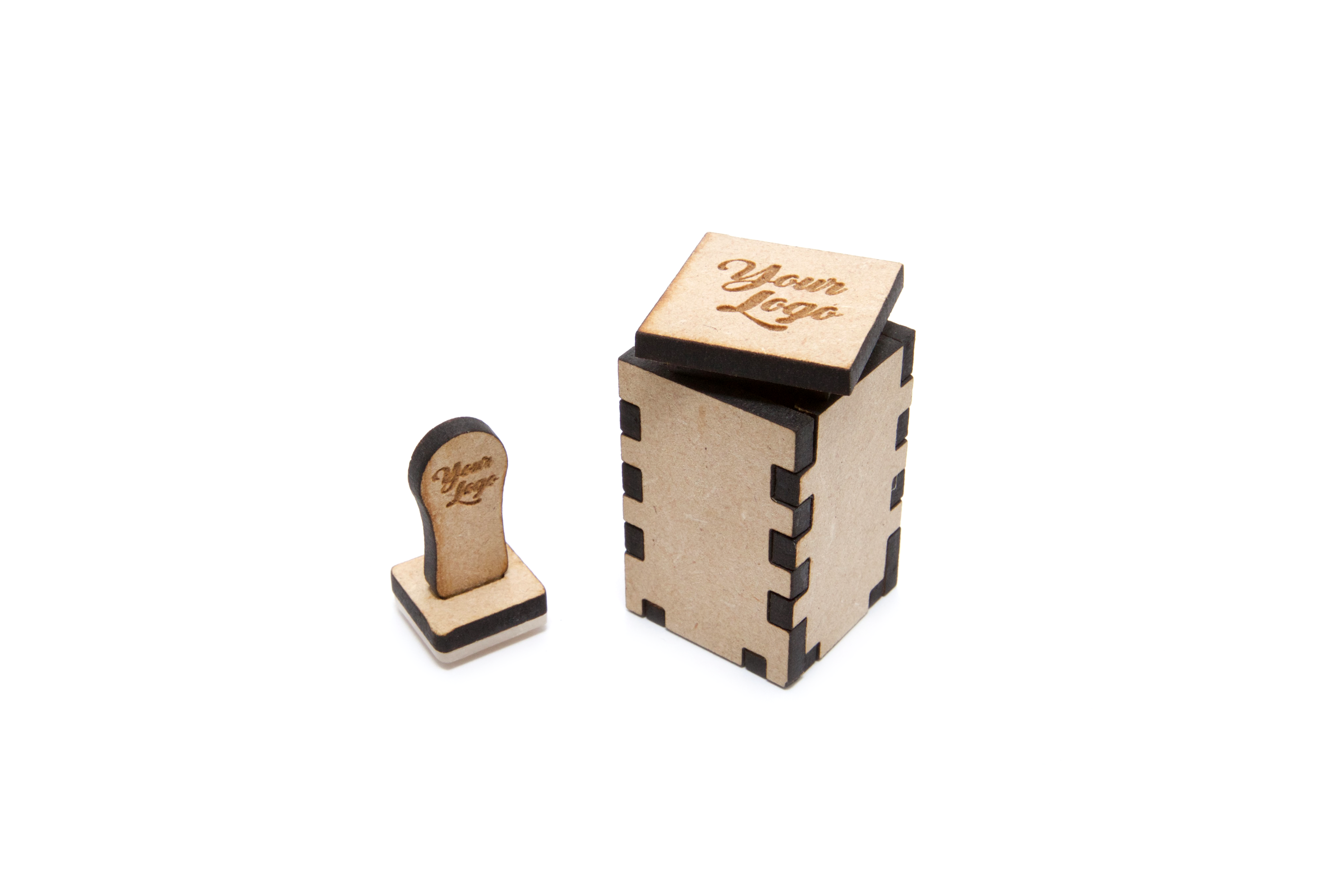 And, to top it all off, your stamp will arrive in the most adorable custom made little wooden box, which will also have your design engraved on the lid, This is ideal as you can quickly see which box contains which stamp - when you've seen your first stamp, we are quite sure you will want more!
Your stamp will be handmade, supporting a small family run business situated in Powys, Wales. All the wood is FSC certified.
HOW DOES IT WORK?
Choose between a rubber or acrylic head. Or both. Then simply upload your design as a 600dpi graphic when checking out. The design need to be black on a white background. It can be a jpg, bmp, pdf, or eps file.
A proof will be sent to you (within 5 working days). We will need you to approve the proof before your stamp is produced, so please make sure you are using an email address where we can get hold of you. The whole production process takes about 12-14 working days, and then your stamp will be sent out to you!
The stamp will be designed so the impression left in the clay matches the artwork sent. Any black lines on your artwork will be impressed into the clay. Please note that some designs will have to be simplified due to the size of the stamp. Feel free to contact us before ordering if you are not sure about how your logo would come out on the stamp.
GENERAL INFORMATION
If you're not feeling confident with graphic design software, we can help you set up the design for a small fee - please contact us with a picture before you go ahead and order, so we can confirm the suitability of the design.
Materials: FSC certified Wood and Acrylic or Rubber stamp head
Size of design: Approximately 8x8mm (best shape would be a quite square design, as the longest side will be about 8mm)
The total stamp head size: Approximately 13 x 13mm. Depth is approximately 1mm.
We also offer a slightly larger stamp, with a stamp design of approximately 14x10mm.
These are custom made by hand on order, so can not be returned or replaced, unless damaged or faulty.
Reviews (8)
Got another one, since the first one was so perfect. Second one was just as good :o)
I can wholeheartedly recommend the acrylic maker's mark for metal clay! The stamp leaves a crisp impression and is a nice small size. It comes with a cute storage box, too. I love mine!
I'm so impressed with these stamps. My logo reads perfectly even though it is only 4 mm wide. So happy I ordered another straight away with my makers mark.
customised stamp for ceramic clay
Staff were very helpful on phone. Product worked well on clay. Nice presentation box.
customised stamp for ceramic clay
Staff were very helpful on phone. Product worked well on clay. Nice presentation box.

Acrylic stamp works really well & leaves nice imprint. I also love the little box it comes in.

Not sure this is working for me. I know my logo is busy however not really clear enough to use effectively. Good workmanship, nice presentation.

Great service from start to finish, stamp looks great and leaves a perfect impression in the clay!! Very happy! Thank you