"Made to Adore" – Double Charm Kumihimo Bracelet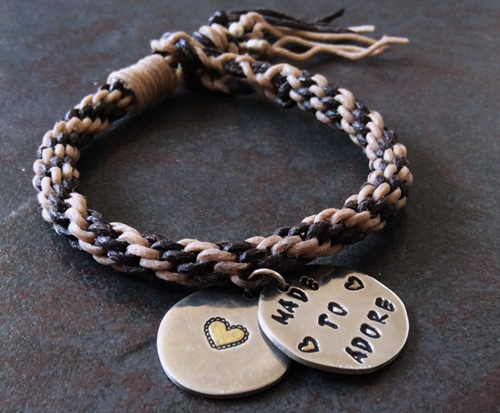 Shopping List
5m of waxed cotton (natural SCC01NA288 & brown SCC01BR288) £1.25
1 x River Stone Blank (IAD13160) £1.10
1 x Blank Circle with hole (IAD13207P) £0.90
1 x Scarlett's Signature 2.5mm (SC1318-2.5mm) £37.95
1 x Lace Heart Stamp 6mm (SC158-H-6mm) £6.95
1 x Whimsy Heart 3mm (SC158-K-3mm) £6.95
1 x Hammer Ball Pien 4oz (HAM01) £3.25
1 x Steel Bench Block (V-BB44) £9.95
8 x Sterling Silver Round Beads 3mm (SRB3) £1.20
1 x Kumihimo Disk (KD603)£3.20
1 x Hasulith Jewellery Glue £2.95 (HASU-JG)
1 x Jump Ring £0.37 (K0002)
MATERIAL COST OF BRACELET - £4.45

Step by Step instructions;
1. Creating your plaited loop; cut four equal length threads. Gather all four threads, mark the centre point using a spare piece of thread and temporarily secure with a single knot.
2. Plait approx. 1 ½ inch down from your centre point, bend this over into a loop, by wrapping it around a pencil. You now have all eight threads that you need for your Kumihimo disk.
3. Push your eight threads through to the back of the disc leaving your pencil as a weight and anchor holding the plaited loop on the back of the disk.
4. Follow your Kumihimo Disk instructions.
5. To tie off your braid; remove all threads from the disk and secure the ends with a spare bit of thread. Take a piece of your waxed cotton and wrap the end, secure the two ends of the wrap with a small blob of jewellery glue. Knot the eight threads together to create one big knot (this will act as a clasp with the loop to secure the bracelet). Add beads for decoration and knot to secure.
6. Stamp your blanks. Use masking tape to secure your blank to the bench block. Use the tape as a guide to align your letters. Add optional gilding wax or liquid. Add a jump ring with the backs of your blanks against each other and attach to your braid.