As Art Clay shrinks when fired, you need to make rings slightly larger than wanted. Art Clay shrinks by volume - this means that a thicker and larger piece will shrink more than a small thin piece, as it contains more clay.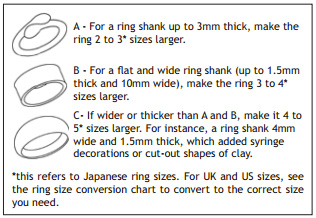 Use a wooden mandrel to wrap round ring sizing paper, a post it note, or a teflon sheet when you're making the ring, to stop it from sticking. When the ring starts drying, ease it up slightly on the mandrel to allow for the slight shrinkage whilst drying. When dry, remove the paper from the ring by wrapping it around itself, starting from the inside. Don't pull off the ring as this can break a delicate ring. If it is sticky, leave it to dry a bit more.
Support dry rings on a rubber when sanding, firing and shaping.