Hello, and thank you for purchasing our products. Now it's time to have a go, so here you will find all the information you need - as well as inspiration and ideas!
Click on the links below to be directed to helpful, downloadable PDF's that you can print out and refer back to again and again. Have a look at the videos to see the products in action. Follow one of our step-by-step project tutorials to help guide you, or just use them as inspiration to create your own versions.
If you still have questions, feel free to email us at support@metalclay.co.uk or call us at 01929 554771, we're here to help!
We also offer a variety of exciting courses in our studio in Wareham, Dorset. Click here to have a look at our course schedule now!

Art Clay Basics:
* Hints & tips for Art Clay beginners
* How to fire Art Clay Silver on a gas hob
* How to fire Art Clay Silver with the torch

* How to use the Moulding Compound


Using the Art Clay Silver Syringe

There are many different ways to use the Syringe, it is an incredibly smart silver clay product. Here are some ideas:

As a decoration on Art Clay Silver Clay: Use the Art Clay Silver

syringe

to decorate your clay with squiggles, lines, and dots, or to create little bezel donut to set lab-created stones in.

On its own: use the syringe on its own to make filigree like designs, like the Rose and Snowflake Pendant below.

On its own using a cork clay core: Create a core shape with cork clay and cover it with the syringe, like the Easter Egg Pendant below. When you fire the piece, the cork clay will burn away and leave you with a hollow delicate piece - remember the cork clay smokes a lot so make sure you fire in a well ventilated area!

For repairs: if you break a piece made in silver clay, use the syringe as "glue" to repair the piece. Squirt a little syringe into the crack or break, push the pieces together carefully, and leave to dry. Please note the repair will be fragile until fired.
Keep your syringes standing in a glass with a centimetre of water when you're not using them. Remember to put it back as soon as you finish so the tip doesn't dry out.
Step-By-Step Syringe Project Tutorials: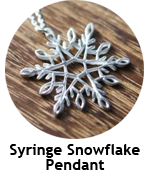 Using Shape Templates
Shape templates are used on rolled out clay, so get your roller and spacers out to get started. The templates make it easy to get the perfect shape in the perfect size, and make creating matching sets a breeze!
Use the templates as a guide along with the stylus to cut out pendants, charms, accents, ring toppers, and earrings from any type of jewellery clay, including polymer clay. The templates can also be used with sheet metal, using a scribe to scratch the shape directly onto the metal sheet.
Click here to view our full range of shape templates.
Watch the video below to see how you best use the shape templates!
See the video below to learn about using the shape templates and the stylus:
Shape Template Project Tutorial: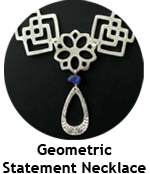 Creating Textures In Clay
Adding texture to your clay is a great way to make your piece stand out. You can add a texture in the wet clay stage; after rolling out your clay and before cutting out your shape. You can also add texture in the dry stage, by using the carving tool.
There are numerous ways to add texture; create your own custom texture using the V-shape carving tool and rubber sheet, or by carving into the blue texture foam sheets.
The texture foam sheets create a wonderful rough texture around whatever design you make, which is really interesting in itself. It lends itself to a great patina. We find the best way to create patterns in the foam is to simply press and push textured items into the foam. Roll a toy car over it, press a shell into it, push the foam against a patterned wall, pick up delicate roses from a fork-handle, and add dots and lines using a biro!
With the alphabet stamp kit you can add personalised words or phrases. You do this in the clay stage, whilst the clay is still soft. Set the little stamps into the handle to write words in a straight line, or use each stamp individually for a free random design.
And don't forget you can also use materials like lace, toys, wallpaper samples, leaves, and fabric to create unique textures and patterns....the possibilities are endless! Of course, there is also a myriad of texture tiles, textured rollers, and pre-shaped moulds if you want something ready-made for you.
Create your own texture with the rubber sheet - Tutorial
TIPS: To help you plan, pencil out your design before you start carving. Place your rubber sheet on a non-slip surface. Hold your mat still as you start to push the carving tool through the surface of the sheet. Be careful, the carving tool is extremely sharp - push away from you! You will need to apply some downward pressure, but not enough to pierce the other side of your mat. If you do not apply enough pressure when carving your texture will be too shallow.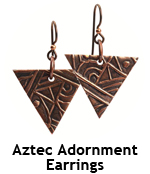 Colouring and Polishing Your Clay
After your metal clay pieces have been shaped, refined, and fired, you now have the option to add colour and polish them up to the finish you desire. You can create an antiqued effect, a brushed satin finish, a high mirror shine....the final look is up to you!
* How to use Swellegant

* Antiquing your silver with Liver of Sulfur or Swellegant patinas

Watch the video below to see the Pro-polishing pads in action!



For even more project tutorials and helpful downloadable pdf's, visit our 'Learn More' page now!