Product Description
A 18 x 13mm oval Preciosa cabochon.
These are perfect for adding a high solid dome to your pieces. The work perfectly with our ring bezels!
To use with our ring bezels (see image 2), we protected the image first with Mod Podge, applied some Diamond Glaze to the image and pressed the cabochon into place. We tried a few other glues and glazes, but we found Diamond Glaze was the best.
(When choosing your image, make sure it has a large border. Due to the cabochon being so domed, it acts a little like a magnifying glass, and you will only be able to see the centre part of your image. I chose my images by laying the cabochon on it to see what parts I would be able to see first).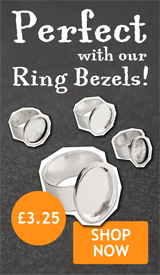 Product Videos
Custom Field
Product Reviews