Product Description
COPPRclay provides an incredible artistic range. And, because it 's so affordable, it can be used to sculpt large pieces and create specialised tools - it can even be thrown on a potter's wheel to shape copper hollow ware!
COPPRclay can be pinched, rolled, sculpted and manipulated. In its dried state, it's still highly flexible and easy to carve-ideal for applying details and finishing touches prior to firing.
When fired in a kiln the binder burns out, leaving a solid, pure copper object that can be sawn, shaped, drilled, sanded, patinaed or soldered using traditional jewellery tools and techniques.
This exciting product offers a new world of possibilities for jewellery makers, artists and sculptors.
PLEASE NOTE: This clay has to be fired in a kiln, in coconut based carbon.
You have to create an oxygen free environment, so we recommend a Stainless Steel Pan and submerged in Activated Coconut Shell Based or Premium Coconut carbon.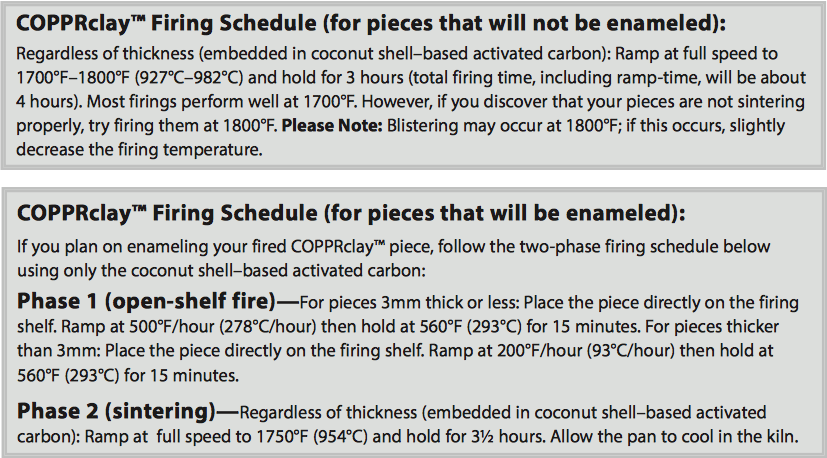 Did you know we stock embeddable copper findings? 'Embeddable' means you can add them to your clay in the wet stage and fire all at once.
Click here to see our full range of embeddable findings.
Product Videos
Custom Field
Product Reviews
4 Reviews
Easy to use, great colour

Very easy to use, coupled with great information/advice available from this website will be buying more of the same

Very hard to work after firing.

I love very much copper but because I haven't yet oven part of jewelry are broken after firing. Oxide product by firing are very hard to clean. Can you recommend another type of copper clay which burns with the torch. And a cleaner oxide solutions also. **RESPONSE FROM METAL CLAY** Hi Janeta, Thank you for your review. We recommend you try the Art Clay Copper as it can be torch fired and doesn't need to be fired in carbon. You can find the copper here: http://www.metalclay.co.uk/art-clay-copper-50gm/ Please feel free to email us at support@metalclay.co.uk or call 01929 554771 if you have any questions.

Excellent service as usual. Coppr Clay is one of my favourite products

Love copper clay, beautiful colour, cheaper than silver clay and nice to work with. Would recommend.